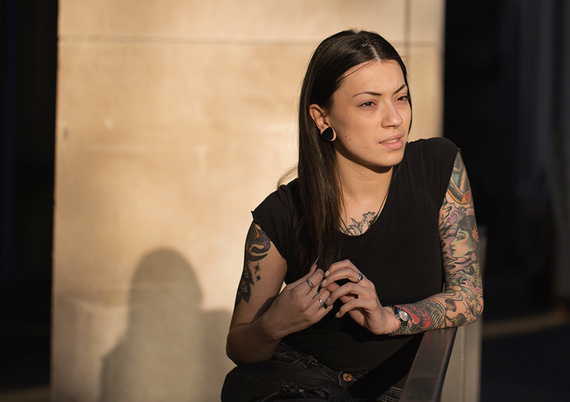 Recently, Helen Castillo of "
The debut of her exclusive collection, Helen Castillo Design, and her contribution to the event benefitted the Leukemia and Lymphoma Society.
"I love Houston," says Castillo. "Some of my best friends, the most important people in my life, live in Houston. To have the chance to display my designs to a new environment that's a lot less fickle than NYC was a real treat. I had full control at the venue, and my own teams and enthusiastic models. The energy is just so inspiring and encouraging in this city."
Helen's enthusiasm about the event truly shines through. She made time in her busy schedule to talk about "Project Runway", Nineteenth Amendment and eating grapes with Vivienne Westwood.
What designers do you admire most? In what ways have they inspired your designs?
Raf Simons is easily my biggest admiration. He joined Dior with little couture knowledge or experience and made the house so outstanding, between him modernizing such iconic time periods and still maintaining the couture elements of the brand. I hope to be at his stature as my name develops.
How would you describe your day-to-day style?
Black on black on black leather and boots.
From what medium do you gain the most inspiration? Name a specific example where you were inspired by the creativity of others, whether it be a painting, performance, music, book, etc.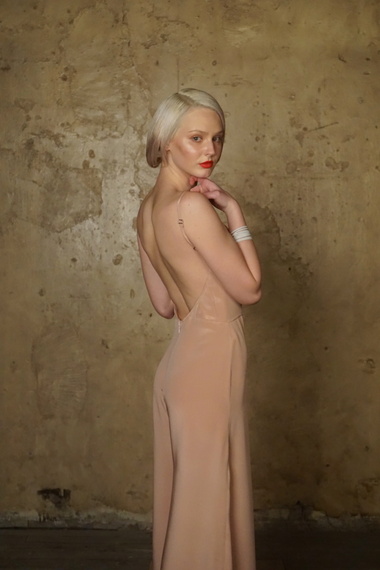 When I travel I feel the most inspired. I have this incredible Sony camera that I can send and share images to my phone. I can post and catalog anything that has an element I can work from later, when developing a collection or garment. I was in Paris a few years ago for a short weekend while interning in London for Vivienne Westwood. The architecture and energy there is overwhelming. It's impossible not to want to create the second your eyes open again from having blinked in a place like that.
To date, which of your designs are you most proud of?
That would have to be my most recent collection. "Project Runway" is a pretty high bar to compare any experience to, but every new design I create is always the one I am most proud of.
What designers have you collaborated with? Do you enjoy collaboration or do you prefer to work on your own?
I've designed with Heidi Klum for New Balance, Gypsy Warrior and my current online collection with Nineteenth Amendment.
How did Nineteenth Amendment come to be?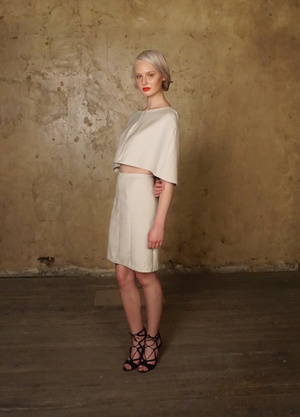 I was approached by Nineteenth to launch a collection with them and it is currently my made-to-order high-end capsule for 2015.
Are you naturally a competitive person? What was it like being on "Project Runway All Stars" in comparison to your first season on "Project Runway"? What was the hardest part for you?
I'm only competitive by nature because I want to put out my best work and strive to do better than my previous work. "All Stars" expectations were much higher. Everyone was expected to know the drill from the get-go. The hardest part of "All Stars" was the lack of camaraderie since everyone was from different seasons. Occasionally, it felt like a scene out of the movie "Mean Girls," but that helped me develop a better sense of independence and focus on my garment development.
In what ways has "Project Runway" helped you achieve your goals?
"Project Runway" opened a lot of doors for me. I graduated college just a few months before having applied and joining the cast of season 12. I didn't even know I was capable of doing the work I did on that season. It's allowed me to meet a lot of incredible people, work with so many great brands and travel a lot, which is easily my second favorite thing.
You were recently recognized by Mary Lambert (who I love!) and commissioned to make her red-carpet gown for the 2014 Grammys. What was that experience like?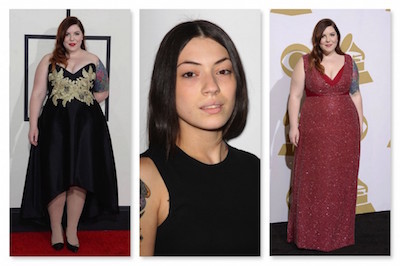 I met Mary only a month after we finished filming season 12. The local cast was invited to a GLAAD event where she performed and once she was off stage she came up to me and recognized me from the show! We exchanged numbers and have been great friends since. She asked that I create her Grammy looks and that was the turning point for me. It validated that designing custom is my main ambition, aside from the beauty of a ready-to-wear line of which I've only recently begun developing (via Nineteenth).
What do you think was the biggest differentiator between you and the other designers competing on "Project Runway"?
I think the appeal to my character is that I'm the tattooed bad ass that designs gowns and evening wear. That juxtaposition is what I think makes my aesthetic so much more desirable.
When did you get your very first tattoo? What is it, and what did it mean to you at the time?
Oh, my goodness. Such a silly one. I grew up on Saint Mark's Place in NYC hanging out with a huge group of kids into hardcore music and we ALL went through the piercing phase. I was one of the first few of the group to get a tattoo. I think I was 17, and it's just the silhouette of an image from a cheesy video game. At the time I thought it was my life, something about that culture and having fun and being with great friends. I refuse to cover it with a new tattoo. It doesn't bother me and I don't regret it. It's a memory, just like every one of my other tattoos. I'm a grand collector of art, just so happens I carry it around with me.
What's the harshest criticism you've received about your designs? Did it help you grow as a designer?
Any criticism whether positive or negative is always a push forward for your brand. Not everyone likes everything I do or design and …